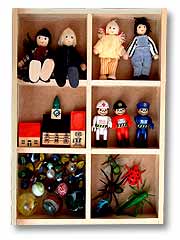 Therapeutic Resources available at Stepping Stones
Please keep reading or use one of the links below to go directly to your area
of interest:
Stepping Stones (TER) Ltd has a range of products to meet the needs of therapists and educators working directly with individuals in therapeutic and educational settings. Some of the materials are for children, but others can be used with children, young people and adults alike.
Children communicate and learn through play. They also use play to help them make sense of their experiences and express their inner world. The products sold by Stepping Stones (TER) Ltd for children cover many of the different sorts of play that facilitate their development and understanding. Some of the resources are aimed directly at specific types of play or approaches developed by therapists and educators, whereas others are more general and can be adapted to meet a variety of needs.
A number of the products offered by Stepping Stones (TER) Ltd can also be utilised for adults with learning disabilities. Many people with such difficulties often benefit from using creative methods to help them explore and understand their lives and experiences, as well as help them with development and learning in general. Working in such a way with people who find verbal communication difficult can help them express themselves and their individual needs more fully. Manipulating and communicating with creative materials and resources can help adults with learning disabilities develop confidence, understanding and autonomy over their lives in a rich and non-threatening way.
Stepping Stones (TER) Ltd is committed to supplying high quality and specialist therapeutic and educational products. Our products are well packaged and attractively presented and comply with the relevant product safety legislation. If for any reason you are not completely satisfied with the service or products you receive, please do not hesitate to contact us and we will do everything possible to rectify the situation. Back to navigation
Sand-World play is an inspirational and non-threatening way of helping individuals express and make sense of their inner and outer worlds, tell their story, work through confusing or distressing experiences, or simply communicate their thoughts and feelings more clearly. A sand-tray provides a three-dimensional environment in which to work. Miniatures and other symbolic objects can be used to help support the information being shared and stories being told.

Click here to find out more » Back to navigation
This form of play is particularly suitable to help individuals explore the world through the senses, i.e., by using materials such as dough and clay, slime and paint. It can help people define the world by discovering where the body ends and the remainder of the world begins, and is a way of expanding and making sense of the world.

Click here to find out more » Back to navigation
Projective techniques can help individuals make sense of the past, present and future by allowing them to project their thoughts and feelings onto external objects. Through the use of such objects, individuals have the opportunity to discover the world outside of themselves. It is a highly creative method, which can utilise a myriad of resources to facilitate learning, expand perspective and develop understanding in a non-threatening way.

Click here to find out more » Back to navigation
These resources can be utilised in a variety of settings, including hospitals, schools, family centres and therapeutic environments. Resources include ethic minority dolls, wooden ambulances and fire engines, teaching aids, plus medical and rescue figures. All of these resources can be used to assist therapists and other allied professionals in communicating and engaging children, young people and adults where appropriate.

Click here to find out more » Back to navigation